Tobacco Use and Oral Health
Tobacco can cause serious damage to your oral health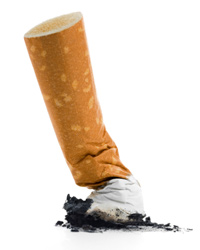 We know that smoking and chewing tobacco can lead to a range of health problems, and oral health is no exception. Think about it: Tobacco hits your mouth before any other part of your body.
Yes, tobacco can dull the wattage of your smile and contribute to bad breath, but it has many more serious oral health risks, including:
Dulled sense of taste and smell
Mouth sores
Cavities
Slow healing after dental procedures
Can't chew your way out of this
Chew, dip and snuff are just as dangerous – if not more so – as smoking cigarettes. At least 28 cancer-causing toxins have been found in smokeless tobacco products. In addition to the same risks as smoking, smokeless tobacco contains added sugar and grit, which can further contribute to oral health problems.2
Why you should quit now
Almost immediately after quitting tobacco, your risks of cancer, gum disease and other problems begin to decrease. It's not easy to beat a nicotine addiction, but the sooner you start, the better for your oral and overall health.
For resources on how to quit, visit BeTobaccoFree.gov from the U.S. Department of Health & Human Services.
Learn more:
How quitting smoking can improve oral health over time
Understanding gum disease: What is it?
Oral cancer symptoms and prevention
Sources:
1. The Health Consequences of Smoking; Surgeon General Report; 2004
2. Smoking (Tobacco) Cessation, American Dental Association, 2010.