Calcium - Vital for Bones and Teeth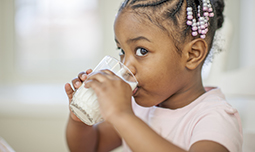 Calcium is the most abundant mineral found in the human body, making it an essential building block of our anatomy. Of this supply, 99% goes towards supporting the bones and teeth of our skeletal system. While milk is an obvious nutritional source of calcium, there are many other dietary options to enjoy.
Calcium is especially important for children and teens during the essential years of the body's growth. When children consume a calcium-rich diet, they are providing their body with the vital nutrients for strong bones and teeth, which are stored and used when needed for proper growth.
Babies typically get calcium and other nutrients through breastmilk or formula, but children ages one to three need 700 milligrams (mg) of calcium through their diet daily, ages four to eight require 1,000 mg and ages nine to 13 need 1,300 mg. Adults with average dietary needs typically require 1,000 mg of calcium each day but postmenopausal women may need an additional 200 mg.
Besides milk, there are many ways to incorporate calcium into your diet. Below are some ideas.
| | |
| --- | --- |
| Plain, low fat Yogurt (8 oz) | 415 mg |
| Part skim Mozzarella (1.5 oz) | 333 mg |
| Sardines in oil (3 oz) | 325 mg |
| Calcium-fortified Soymilk (8 oz) | 299 mg |
| Fresh cooked Kale (1 cup) | 94 mg |
| Reduced-fat Sour Cream (2 tbsp) | 31 mg |
| Calcium-fortified Cereal (1 cup) | 100-1000 |