Employer Toolkit
Materials for your employees
Connecting your employees to a life of better overall health through oral wellness is our primary goal. This toolkit provides resources to increase employee oral health and give you the tools necessary to save time and money.
Individual toolkit components are available below.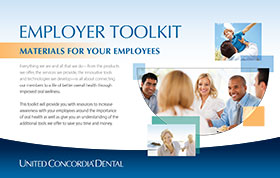 Resources for Oral Health
Chomper Chums® Coloring Materials
Help your employees entertain their children while they learn about oral health.
Sugar In Drinks Flyer
Limiting the amount of sugary drinks consumed can improve oral health.
Download PDF
My Dental Assessment
This two-minute online tool identifies risks and shows how lifestyle factors and medical conditions impact oral health.
Oral Health Flyers
Additional topics for employees oral health education.
Oral Health in Every Stage of Life


Tobacco & Your Oral Health


Eating Habits of Healthy Smiles


The Link Between Oral Health & Overall Health

Resources to Administer Benefits
Account Management
Most benefit inquiries can be handled conveniently online. Our Account Management Portal can ease the process of enrollment, account management, and billing.
eBill
Get 24/7 access to billing information as well as quick and easy payment options.
Helpful Contacts
Have questions or need assistance? Find help fast with this handy contact list.

Email Templates
Use these emails to encourage your employees to get the most from their dental benefits and maintain good oral health. Simply cut and paste from the Word Document templates into a new message in Microsoft Outlook, or create your own email and add the PDF file as an attachment.
Smile for Health-Wellness® Email
For groups who have Smile for Health – Wellness®, explains the advantages of the program and shows eligible employees how to self-register to receive their improved benefits.
Signup for My Dental Benefits Email
Encourages your employees to create a My Dental Benefits account.
Additional Resources
Resources for employees to better understand how to maximize their benefits.
Benefits Bridge Flyer


My Dental Benefits Flyer


My Dental Assessment Flyer


Preventive Incentive Flyer


Network Dentists Flyer


Predetermination Flyer


Dental X-Rays Flyer


Radiation Safety and Bitewing Radiographs (X-Rays) Flyer


Mobile Apps Flyer


Interactive Voice Response (IVR) System Member User Guide


Chomper Chums® Mobile App Card


Member Mobile App Card


Understanding Your EOB